SmartReg 3.5 for Smartphone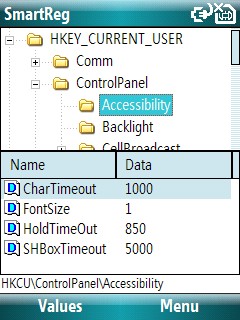 Forgotten that registry change you made last week that you really wish you'd never made? Not a problem if you made the change with SmartReg. Simply look in the change history list, view the change and then undo it!
SmartReg is the professional Windows Mobile registry editor. It contains all the features you would expect in a standard registry editor.
PLUS:
Complete historical change log - Records all changes you make to the registry using SmartReg and allows you to undo or redo those changes days, weeks or even months later!
Comprehensive undo/redo facility for all operations.
Powerful Find All facility, optionally using regular expressions
Features:
Create, edit, rename and delete both keys and values.
Full Cut, Copy and Paste support for both values and keys. Will copy and paste a full sub-key structure, including all values at each sub-key level.
Undo and Redo available for all registry changes.
Powerful Find and Find All facilities. Find strings in key names, value names and data. Regular expressions can be used.
Store frequently used keys in the favourites list for quick access
Import and export data in windows RegEdit format.
Enter DWord values in decimal, hexadecimal or binary.
Easily add and modify binary values using the built-in binary editor. Edit other value types as raw binary data.
Menu options for Parent Key, Root Key, First Sibling and Last Sibling. Allows quick navigation through the key heirarchy.
The trial version is fully functional for 14 days after installation.
SmartReg works on any Smartphone running Windows Mobile 2003 SE, WM5 or WM6. Supports all current screen resolutions and modes.